Bill's Games HOME
---
Card Games
Solitaire
Video Poker
---
Word Games
Hangman
Plaid Libs
Brain Teasers
Word Scram
Word P.I.
---
Board Games
Ship 'n Crew
Tic-Tac-Web
Connect
Websweeper
Concentrate
---
Puzzles
Bee's Nest
Slider
Towers
WebSame
---
Mazes
Maze Generator
Invisible Maze
---
Info
About Us
Privacy
Our Awards
---
Get Connected
Contact Us
Chat
Survey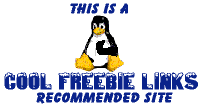 August 19, 1998 - Bill's Games is listed as "Coolest" (Four Penguins) at Cool Freebie Links, a comprehensive guide to freebie, contest and sweepstake sites.

We were of course listed in their games category.

Here's what John Juratovac, C.F.L.'s webmaster, said:
Your URL has been listed as a C.F.L. recommended site because of its content, ease of use and overall quality.