Bill's Games HOME
---
Card Games
Solitaire
Video Poker
---
Word Games
Hangman
Plaid Libs
Brain Teasers
Word Scram
Word P.I.
---
Board Games
Ship 'n Crew
Tic-Tac-Web
Connect
Websweeper
Concentrate
---
Puzzles
Bee's Nest
Slider
Towers
WebSame
---
Mazes
Maze Generator
Invisible Maze
---
Info
About Us
Privacy
Our Awards
---
Get Connected
Contact Us
Chat
Survey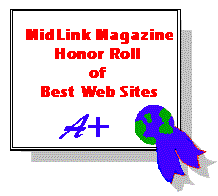 March 19, 1999 - Bill's Games is awarded a "Best Web Sites Award" by MidLink Magazine, an award-winning digital magazine for kids and by kids.

We were listed in their Just For Fun category.

Here's what Ann Thompson of Ligon Middle School said:
Your site has been selected for inclusion in MidLink Magazine's honorary list of Best Web Sites. We feel kids will enjoy your site in Just for Fun.

Thank you for maintaining an exemplary web site and making the web a better place for students and teachers to learn!